Turf the tankard
Monday, December 07, 2009
This is Scandanavian I believe. Metal with a teak handle. I liked it. Bought it at a yard sale. Never used it, not even as a vase. Don't need it. Cold today, hovering at and just below the zero mark. Could drop as low as -7 tonight. The photo of bushtits on suet isn't from today, but these darling birds stopped by twice today to load up on fat food.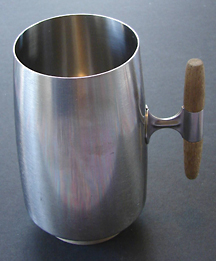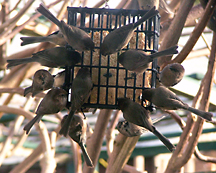 Flip the bird
Sunday, September 06, 2009
I used to work with someone who collects red birds. I was always on the lookout for them. I ended up with more of them than I had opportunities to give them to her. There are still a few leftovers. This one was acquired at a yard sale, and on closer inspection at home, I didn't think it was nice enough to pass on to her. Random flower shows the seed pods from Clematis tangutica.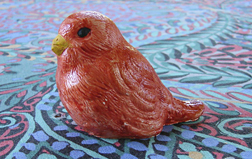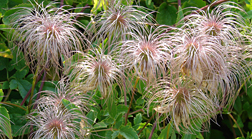 Flying the coop
Saturday, June 20, 2009
I don't know where these came from. I'm not sure I should confess to not having unpacked a few boxes since moving here 11 years ago, but I finally opened one up and found a whole bunch of odds and ends, these birds included. I've never collected chickens or roosters. Cannot remember acquiring these. I hope someone at the cat rescue sale liked them. It was quite satisfying seeing them on a table full of jumble, knowing I didn't have to take them home. Random flower is a trillium from my garden.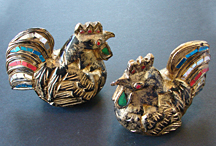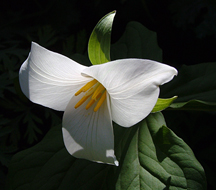 Loonie tunes
Saturday, April 18, 2009
I'm putting up two items today, since I didn't post yesterday. The loon went to Wendy last night as an addition to her avian avenue. Carved by Vancouver folk artist Gunnar Gormsen. I gave the book to a friend who is taking a trip to the Galapagos Islands this summer. It's a book my mother gave me, but I've never read it. It's called Floreana: A Woman's Pilgrimage to the Galapagos.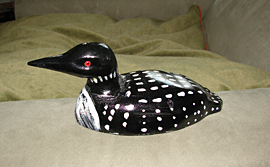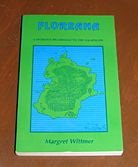 Burn bright my little lovebirds
Friday, February 13, 2009
These wee candles were party favours from a great party we went to a few years ago. Time to light them up. It's Valentine's Day tomorrow — I'll put them on the table and we can drink a toast by candlelight.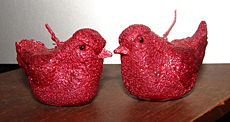 Bye bye birdie
Tuesday, January 13, 2009
In the city where I used to live, I had elderly neighbours who made folk art. The man would carve and the woman would paint. Birds, flowers, animals, houses, trees. This cardinal is 6.5in high and 8.5in long. Let me know if you want it.