Green Man
Sunday, November 28, 2010
My friend gave me this a few years ago. It had been given to her, but she didn't like to look at it because it reminded her of her father-in-law's face. I had this Green Man in my garden for those years, peeking out from a shrub. Then I met a woman who dances with a group of Morris dancers — and they have a Green Man in their group. Perfect! She would get the reference. So now this sculpture is in her garden, presiding over the veggies.
This is a large chunk of clay. Easily 75lbs. I can't even lift it. I thought I had a photo of it in its new home, but I can't find it. This guy has whales and birds and deer and other animals forming his beard and hair. Quite astonishing to look at closely and see all the fauna.
Straight from Wikipedia today:
A Green Man is a sculpture, drawing, or other representation of a face surrounded by or made from leaves. Branches or vines may sprout from the nose, mouth, nostrils or other parts of the face and these shoots may bear flowers or fruit. Commonly used as a decorative architectural ornament, Green Men are frequently found on carvings in churches and other buildings (both secular and ecclesiastical). "The Green Man" is also a popular name for English public houses and various interpretations of the name appear on inn signs, which sometimes show a full figure rather than just the head.
The Green Man motif has many variations. Found in many cultures around the world, the Green Man is often related to natural vegetative deities springing up in different cultures throughout the ages. Primarily it is interpreted as a symbol of rebirth, or "renaissance," representing the cycle of growth each spring. Some[who?] speculate that the mythology of the Green Man developed independently in the traditions of separate ancient cultures and evolved into the wide variety of examples found throughout history.
The Hand of Ganz
Saturday, November 13, 2010
I found this book years and years ago. I had to buy it just for the cover. In the story, Ganz is an evil character. I read the book more than 20 years ago. I vaguely remember that the ending was completely unsatisfactory in that it led directly into a next book without wrapping up its own plot. I don't mind a series, but when a book literally ends in a cliffhanger with no way of knowing how things work out, then I get frustrated. I have never come across another book in the series — but I haven't looked either. Now that abebooks.com is around, I'm sure I could find out. I wanted the book to stay in the family, so when my oldest nephew came to visit this summer, I gave it to him. He got a big kick out of knowing there was a badass warlord named after him.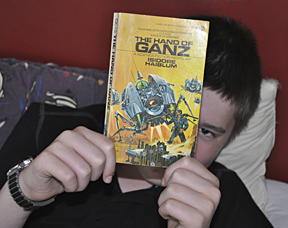 Learning new things
Tuesday, November 02, 2010
I've just done my first animated gif. Late to the party. But here it is. I've been extremely busy with work – but I have been getting rid of things, taking photos of them, and will do a batch post when I can.