Spontaneous
Wednesday, October 20, 2010
I gave something away yesterday. Wasn't even planning on it. Don't have a photo. Am not going to describe it. The person I gave it to was quite charmed to receive a little present for no reason. Some days that's what it's about.
Care package
Monday, October 11, 2010
I know someone who had to move out of his shared place very suddenly. Fortunately he has found a new place to live, but he's going to need some basics again. I've started to put together some dishes and linens. I haven't taken photos of everything yet. I've got a litte shelf unit I can pass on, and maybe a rug. A different sort of weeding out from what I usually do. This time it will be for household items. Now I look back on everything I got rid of over the past year and a bit, and wish I had some of it back to give to him! Particularly
two sets of dishes
I took to the Sally Ann in February. Ah well, what I can't find, he'll get from other people. I've been posting so many photos of Tashi lately. Here's one of Bear, who has been a bit put out that she isn't deffering to his alpha-ness. Yesterday she actually went up to him while he was sleeping in her favourite place and snuggled up beside him. She was slow and careful and he started to lick her. I do so like it when the older cats finally start to accept the new addition.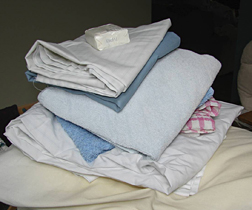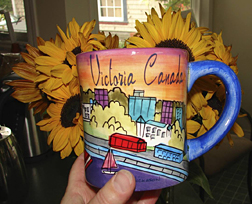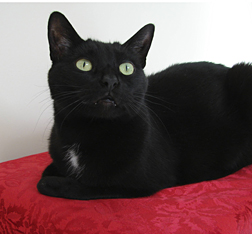 How did I do this every day?
Monday, October 04, 2010
When this project started, and for the entire year 2009, I was very committed to the daily ritual of getting rid of something — taking a photo of it, writing about it, and putting it in one of the boxes to leave the house. Some nights I would be ready for bed and remember that I still had to write my blog. I'd get up and do it. This year, I'm less stringent about it. And of course I'm finding that many days can go bby without having the urge to post anything. I'm busy with a new cat, with the garden (making pesto, dehydrating apples), with trying to write a poem every week, and with trying to get to the point where I have a small studio space and time to make some altered domino necklaces and collages. I have a big pile of stuff I want to try and sell on usedvictoria.com, but that takes time too. Now that I'm almost over a wicked cold and am getting back some energy, I am going to try for every 3-4 days. In the meantime, here's a photo of Tashi. If I have to choose between 10 minutes playing with her and the feather toy or writing my blog, I'm going to play!